sonoro audio / faller audio
SONORO AUDIO IS THE TRIPLE WINNER OF THIS YEAR'S RED DOT AWARD
Neuss, DE - 20 June 2023 - sonoro audio GmbH, one of the leading suppliers of high-quality audio products from Neuss, has been awarded the prestigious Red Dot Award for Product Design 2023 for three of its products. One of the coveted prizes went to the OSKAR TV voice amplifier, which the company developed under its faller brand, which specialises in sound solutions for people with hearing impairments. The jury also presented the ORCHESTRA (Gen. 2) and ORCHESTRA SLIM loudspeakers with the award.
An "Oscar" for the OSKAR
The OSKAR TV speech amplifier solves a problem that almost every TV viewer - even with their hearing still intact - has experienced: The music or sound effects in the film or favourite series are too loud, while the dialogue is difficult to understand. As hearing deteriorates with age, this becomes a real problem: in order to be able to follow the dialogue, the TV set is turned up louder and louder, which can become unbearable for the partner or the neighbourhood and lead to tension.
For this reason, sonoro has developed the OSKAR portable hearing amplifier under its faller brand together with ENT doctors and hearing care professionals: Using innovative voice optimisation technology, it brings sound directly to the seat. At the push of a button, voices and frequency bands important for speech are actively emphasised, while disturbing background noise is dynamically filtered out and minimised. In this way, OSKAR makes it possible for older people and people with hearing loss in particular to watch television in a relaxed manner again without having to turn up the sound excessively loud.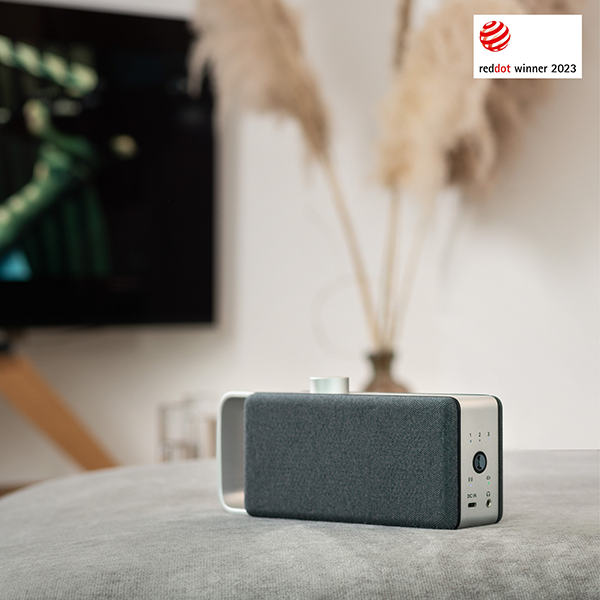 In addition to its intelligent technology, OSKAR is characterised by its elegant and uncluttered design and its ease of use. Two buttons are all that is needed to operate the voice amplifier: An on/off rotary control, which also adjusts the volume, and a "speech filter" button, which, if desired, optimises the voices in TV dialogues in three stages and reduces disturbing background noise. In addition, OSKAR works with all common TV sets and is connected to the TV via the base station in just a few steps.
These advantages convinced the jury to award OSKAR the quality seal for shapely, easy-to-use and functional products.
Sound power in an elegant design: The ORCHESTRA speakers from sonoro
Traditionally, sonoro places the greatest value on sound quality and design language. In the latest generation of ORCHESTRA loudspeakers, which have been optimised once again in terms of sound and now visually blend into the new sonoro loudspeaker design, both elements have been optimally combined.
The 2-way bass reflex speaker pair ORCHESTRA (Gen.2) offers a detailed, crystal clear reproduction. With its slim dimensions and modern design language, it fits elegantly into all interior styles and is a visual highlight in any living space. Despite their compact dimensions, the speakers have the potential to fill even larger rooms with their sound. In the high frequency range, an Air Motion Transformer embedded in a Wave Guide ensures detailed, crystal-clear reproduction. The mid-bass driver, together with the carefully tuned crossover, adds depth to voices and instruments, giving the ORCHESTRA (Gen.2) a clean, contoured performance. Thanks to the powerful double magnet drive, a powerful bass is produced. Thus, the ORCHESTRA (Gen.2) offer a great sonority in their relatively small cabinet.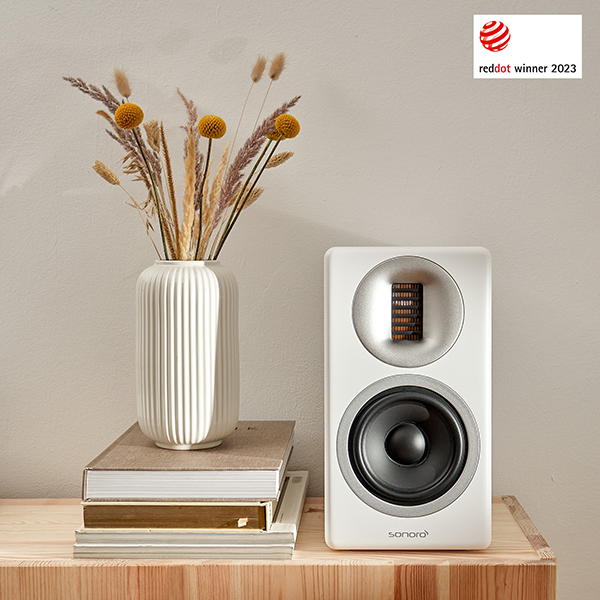 Big sound, slim silhouette: ORCHESTRA SLIM
With the new ORCHESTRA SLIM, sonoro now also offers compact speakers with powerful sound. The design speakers were developed to fill small and medium-sized rooms with clear sound. Like the larger version of the ORCHESTRA series, the compact speakers also impress with the highest sound quality and detailed, crystal-clear reproduction. With their slim silhouettes in an elegant design language, the pair of speakers also finds its place everywhere and blends harmoniously into any interior style.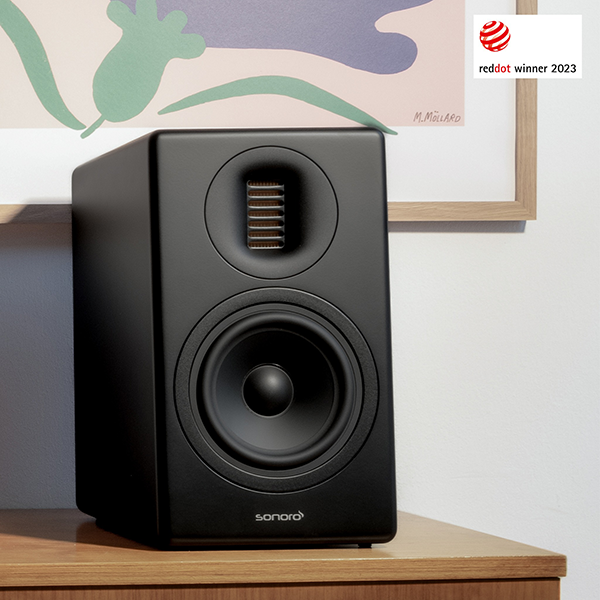 "
Our goal is to offer products with the highest sound quality, uncomplicated operation and timeless design. That's why we are particularly proud of the triple distinction from such a prestigious award as the Red Dot, which honours precisely these qualities
About faller
The faller brand of sonoro audio GmbH, Neuss, has been designing and developing sound solutions for people with hearing impairments in Germany since 2021, making their lives easier. In the development of faller products, the highest value is placed not only on quality, but also on ease of use and user comfort.
With OSKAR, a portable TV speaker with voice amplifier, faller has been ensuring relaxed television viewing since 2021 - even with incipient hearing loss.

About sonoro
sonoro audio GmbH, Neuss, has been designing and developing high-quality audio systems in Germany since 2006, delighting music lovers all over the world. When developing sonoro design music systems, not only is the highest value placed on quality and user comfort, but the individual nature of your home is also taken into account. sonoro thus focuses on the characteristics that are expected of a functional sound system in a room and adds a little something extra - a sonorous living experience.
Under the motto "German Audio & Design", sonoro combines classic virtues - timeless design, German quality standards and first-class manufacturing expertise - under one roof.
The sonoro design has already received several international awards such as the red dot award and the Plus X Award, as well as a nomination for the Design Award of the Federal Republic of Germany. The products are distributed in over 20 countries via design and electronics retailers, selected online shops and mail-order catalogues.

Über novis electronics AG
novis electronics AG is the designated representative of leading brands in the consumer electronics industry in Switzerland and the Principality of Liechtenstein. With our network and know-how as well as our tailor-made and flexible market services, we develop the market for our customers. All services such as marketing, public relations, category management, sales, promotion and training, after-sales service as well as the complete supply chain management for the B2B and B2R marketplace are provided by novis from a single source. Our motivated and flexible team develops inspiring strategies for our customers, from simple logistical full-fillment solutions to complex market entry, thus achieving long-term success.
Contact: Ugo Kratter, Product Manager