Sonos
SONOS PRESENTS THE MOVE 2
Santa Barbara, California, September 6, 2023 - Sonos (Nasdaq: SONO) today introduces the Move 2, the next generation of the successful Move portable speaker. Move 2 is rugged and waterproof, offering stereo sound and up to 24 hours of battery life, making it ready for any party. Move 2 not only offers sound innovation, it's also the most sustainable portable speaker yet from audio experts Sonos and the first to bring stereo sound outdoors - from al fresco dining to pool parties. The Sonos Move 2 will be available worldwide from 20 September 2023.

A premium portable powerhouse that plays all the pieces
The Move 2 has been improved in both its internal and external design. As a result, it has all-new hardware and software that delivers next-generation acoustics thanks to stereo sound and deep bass - no matter where you are.
"
Since its launch in 2019, the Move has become the world's best-selling speaker in its category thanks to its versatility and powerful sound. Sonos aims to create special moments with sound experiences, no matter where or with whom we are. With Move 2, we're driving innovation in immersive listening and bringing stereo sound to our most popular portable speaker, with the same forward-thinking acoustics and design that debuted in the Era family.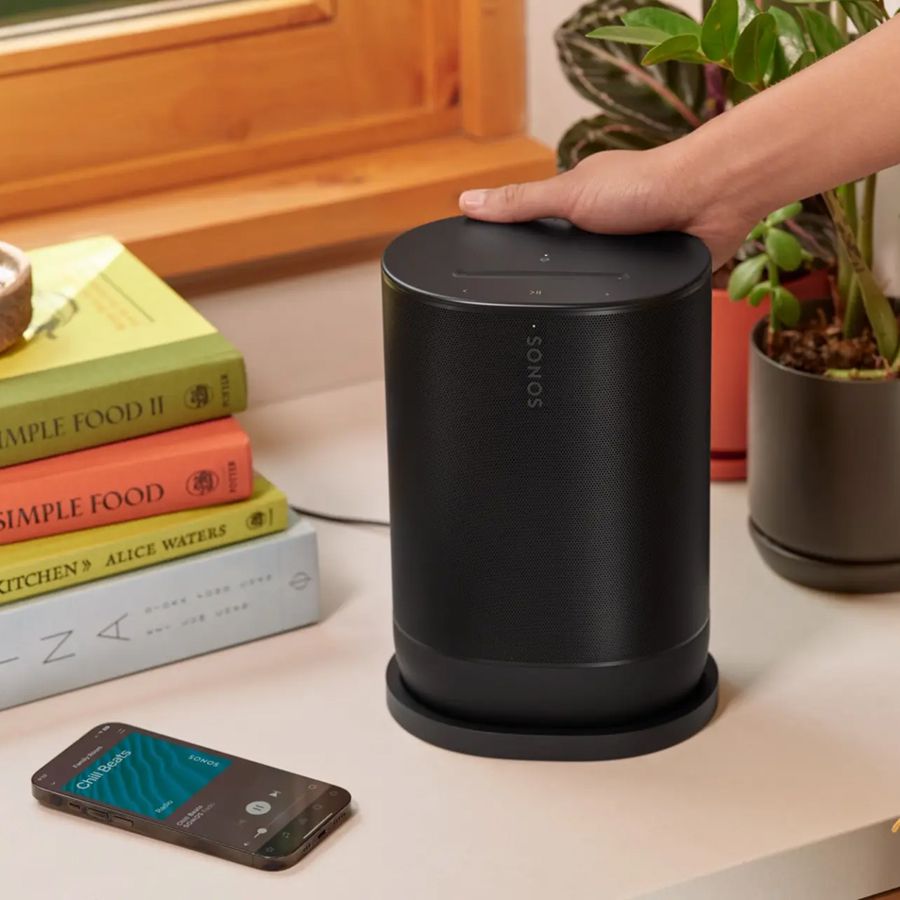 Powerful sound, now in stereo
Move 2 features a completely redesigned acoustic architecture with two tweeters that provide room-filling stereo sound and clear voices. This allows listeners to bring the emotional live experience into their own homes. The precisely tuned woofer produces deep, dynamic bass - even when enjoying music outdoors.
Customisable system
Simultaneous Bluetooth and W-LAN connectivity adds flexibility - stream to a stereo pair of two Move 2s via Bluetooth to create even more space for great sound. Or connect Move 2 seamlessly to the rest of your Sonos system via wifi to get the party started.
Even more power
Move 2 offers up to 24 hours of battery life - double the playback time of Move - and a USB-C port for charging smartphones or other electronic devices on the go. This makes the speaker the ideal companion for road trips and outdoor adventures.
Sustainable for any adventure
Move 2's energy consumption has been reduced by more than 40% in standby mode, recycled plastics have been used and the speaker is equipped with a removable and replaceable battery to extend product life. In addition, Move 2 is packaged in recyclable packaging with material from sustainable sources, without new plastic.
Versatile sound for everywhere
With its extremely rugged IP56-rated housing, Move 2 is designed to withstand drops, splashes, rain, dirt and sun. Thanks to automatic Trueplay Tuning, Move 2 continuously adapts the sound to the current environment. So the speaker always delivers the best listening experience - no matter where, no matter when.
Optimised design and operation
Move 2 is now also available in Olive, a colour that is ideal for all indoor and outdoor environments. Available in black and white, the speaker seamlessly integrates with existing Sonos systems. Move 2 features the same intuitive user interface as the recently launched Era speakers, including a capacitive slider for volume. Alternatively, Sonos Voice Control, Amazon Alexa, the Sonos App, Apple AirPlay 2 and Bluetooth® can be used to play and pause music, check the battery and more.
Connected to all your favourites
Audio content can be easily played via wifi and Bluetooth or through a connected turntable, computer or other audio source via Sonos line-in adapter.
Downloads
Press release DE
Press release for Sonos Move 2
Press release DE
Fact Sheet for Sonos Move 2
About Sonos
Sonos (Nasdaq: SONO) is the market leader in smart sound systems. Since the introduction of the world's first Wi-Fi-based multi-room sound system, Sonos has been providing people around the world with even better sound - by giving them access to content they love and the ability to control Sonos how and where they want. Sonos delivers unparalleled sound, thoughtful design, ease of use and an open platform. This is how Sonos makes the full range of audio content accessible to everyone. Sonos is headquartered in Santa Barbara, California. For more information, visit www.sonos.com.
Press contact:

About novis electronics AG
novis electronics AG is the designated representative of leading brands in the consumer electronics industry in Switzerland and the Principality of Liechtenstein. With our network and know-how as well as our tailor-made and flexible market services, we develop the market for our customers. All services such as marketing, public relations, category management, sales, promotion and training, after-sales service as well as the complete supply chain management for the B2B and B2R marketplace are provided by novis from a single source. Our motivated and flexible team develops inspiring strategies for our customers, from simple logistical full-fillment solutions to complex market entry, thus achieving long-term success.
Contact: Renato Kunz, Head of Category Management