Toni Tarneller
An insight into his world at novis
Toni Tarneller, an experienced sales manager, has been a proud employee at novis electronics AG since 1 January 2013. In an exclusive interview he tells us more about his experiences and passions.
Toni Tarneller
In the world of novis electronics AG, there is one man who is not only part of the team, but also enjoys a deep-rooted passion for consumer electronics and technology. Toni Tarneller, Sales Manager at novis electronics AG, has been an important part of the company for more than a decade, a time during which he has developed both the company and his own passions.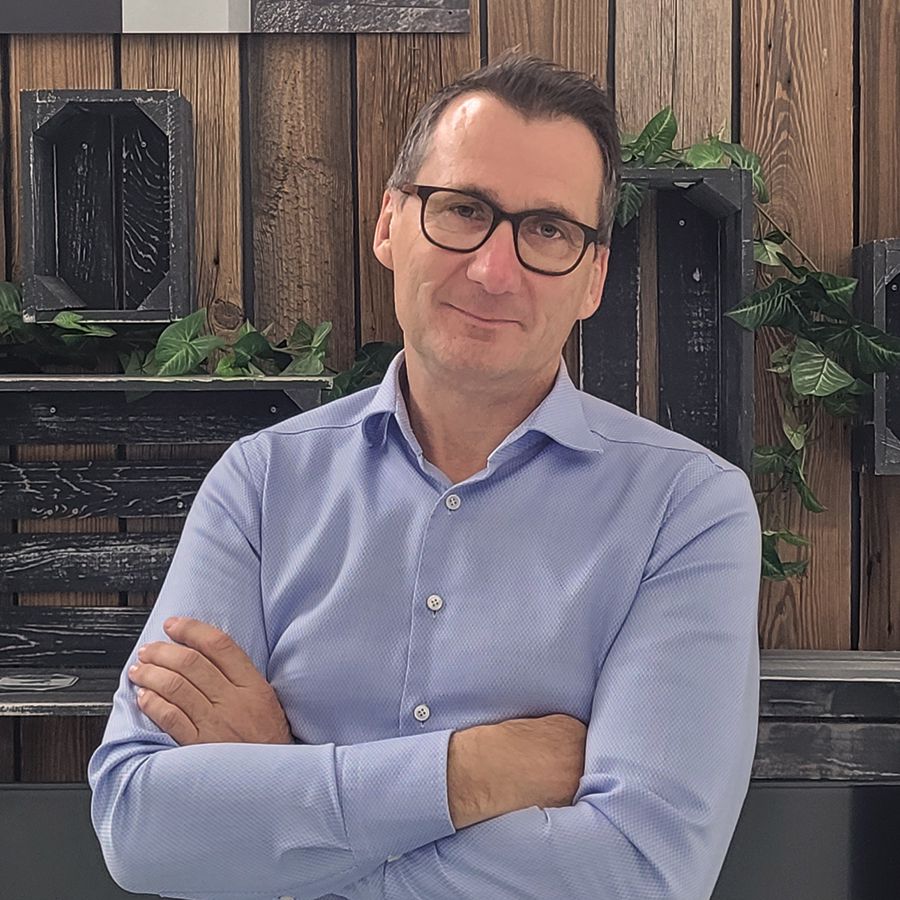 Toni, tell us what you value most about novis electronics AG and the company culture and how you contribute to it
Of course.... that's a great question and it gives me the chance to talk about my experience at novis. I really appreciate that I can express my creativity and motivation to the fullest here. In this company, ideas are not only welcomed, but seen as opportunities. This openness allows us to learn and grow from our experiences. I really appreciate these freedoms and I reciprocate this by contributing to making novis grow further by actively working on innovative projects and ideas.
That sounds really inspiring. What do you like most about your work?
Oh, that's easy - the whole world of consumer electronics is my passion. I love listening to and enjoying music, and my Klipsch RF-7 speakers are just perfect for that. I am also fascinated by the world of movies with powerful images and sound on big screens. In fact, I sell the very "hardware" that generates these emotions.  I feel like I'm a link between technology and people, so to speak. The technology behind it all really excites me. From the gramophone to high-res audio and from the beginnings of silent film to 4K HDR10 / Dolby Vision - it's all incredibly exciting to me.
What motivated you to apply to novis electronics AG?
My decision to apply at novis has an interesting history. I already knew the company and some of its employees from my time at Toshiba. When Toshiba decided to get out of the TV business, it was natural for me to want to go to a company that is constantly looking for new ideas and keeps reinventing itself. Andreas Tischhauser recognised my enthusiasm and gave me the chance to develop at novis. There is nothing better than being part of a company that is constantly developing and implementing new ideas.
What unique skills do you bring to your department and your work?
I think my ability to adapt quickly to new situations and extract the positives from them is one of my strengths. I also believe that my positive attitude motivates my colleagues to go that extra mile. My relentless drive to realise my full potential always pushes me forward. However, I have to admit that sometimes I should relax a bit because I know that my energy can be overwhelming.
That sounds like a great work ethic. What successes have you already had at novis electronics AG?
The successes I have had at novis are the result of the hard work of the whole team. The colleagues in the warehouse who dispatch our sold goods deserve great respect. Especially during the peak season -  they even work on Saturdays to ensure that the goods are delivered on time. The office staff support us with administrative tasks and have our backs. Without this backup, we in the sales team would never be able to achieve the successes novis has recorded in recent years.
That sounds like great teamwork. What is your private work-life balance?
In my free time, I devote myself to my other passions. As I already mentioned, films and music are my hobbies. I like to watch films that surprise me, and my taste for electronic music has developed over the years. 
"
Music fascinates me, - in the past I mixed music myself - do you remember "MKII"?
I also enjoy reading comics and books, preferably in complete silence, without music in the background. Cooking has something meditative about it for me which means I really enjoy it. Sport also plays an important part in my life. Whether I'm riding my mountain bike on different trails or going hiking or climbing in the mountains, I just have to get out into nature.
Thank you, Toni, for giving us these insights into your life and passions. It was very inspiring to talk to you.
Would you like to meet the novis Team in person? 

Then pick up the phone and make an appointment with us!

We look forward to meeting you.