On the brink of a Matter Revolution
THE NEW SMART-HOME STANDARD IS HERE
With Thread and Matter, we finally want to succeed in what everyone has thus far failed: connecting the most disparate smart-home products into an ecosystem that will change the way you live your intelligent home life.
Reading time: 6 min. | Author: Elias Weisskopf, Product Manager
The promise of reliable and secure connectivity
The Connective Standards Alliance has released Matter 1.0 into the world, which means we are "just a few days" away from being able to demonstrate and also offer you the first Matter-Smart-Home devices.
The launch of a specification is not something that would normally generate a lot of buzz outside of developer circles, but Matter 1.0 is a big deal as it means that Smart-Home brands can begin the process of testing and certifying their devices for Matter.
Matter, a new standard for Smart-Home connectivity supported by all the major manufacturers - Apple, Samsung, Amazon and Google - aims to solve the problems of connectivity and interoperability between different devices.
Already more than 180 companies stand behind MATTER
The idea is that when you buy a new smart light switch, camera or doorbell, you no longer have to look whether the devices work with, let's say, Apple's Home Kit or Amazon's Alexa, but instead look for Matter support. Matter itself ensures stable and universal communication. Figuratively speaking, it provides the unified road network and regulates traffic for all compatible devices.
But there is more to come
Matter's connectivity protocol also includes a specification for smart TVs and video streaming. This could render casting systems like Google Cast or Apple AirPlay obsolete in the future. Users could stream media via Matter to any casting-capable device. Standard functions of a smart TV, such as changing channels, switching between HDMI inputs or volume control, can theoretically also be controlled via the Matter connection.
Can I continue to use old devices?
Whether all current smart home devices will really be compatible with Matter is not yet clear. In the end, this decision will be left in the hands of the manufacturers and the technical feasibility with the respective devices.
Why do we also talk about Thread not just Matter?
The Thread radio protocol is currently experiencing a spectacular rise in popularity. Until a few weeks ago, it was only known almost exclusively to insiders. In the meanwhile, however, the name has been appearing regularly in product announcements. We will be hearing a lot more about Thread in the future.
Besides impractical bridgets, there are two direct connection technologies through which your Smart-Home devices can support Matter: WLAN and Thread. Thread offers a number of advantages over WLAN, such as robust mesh technology and high energy efficiency.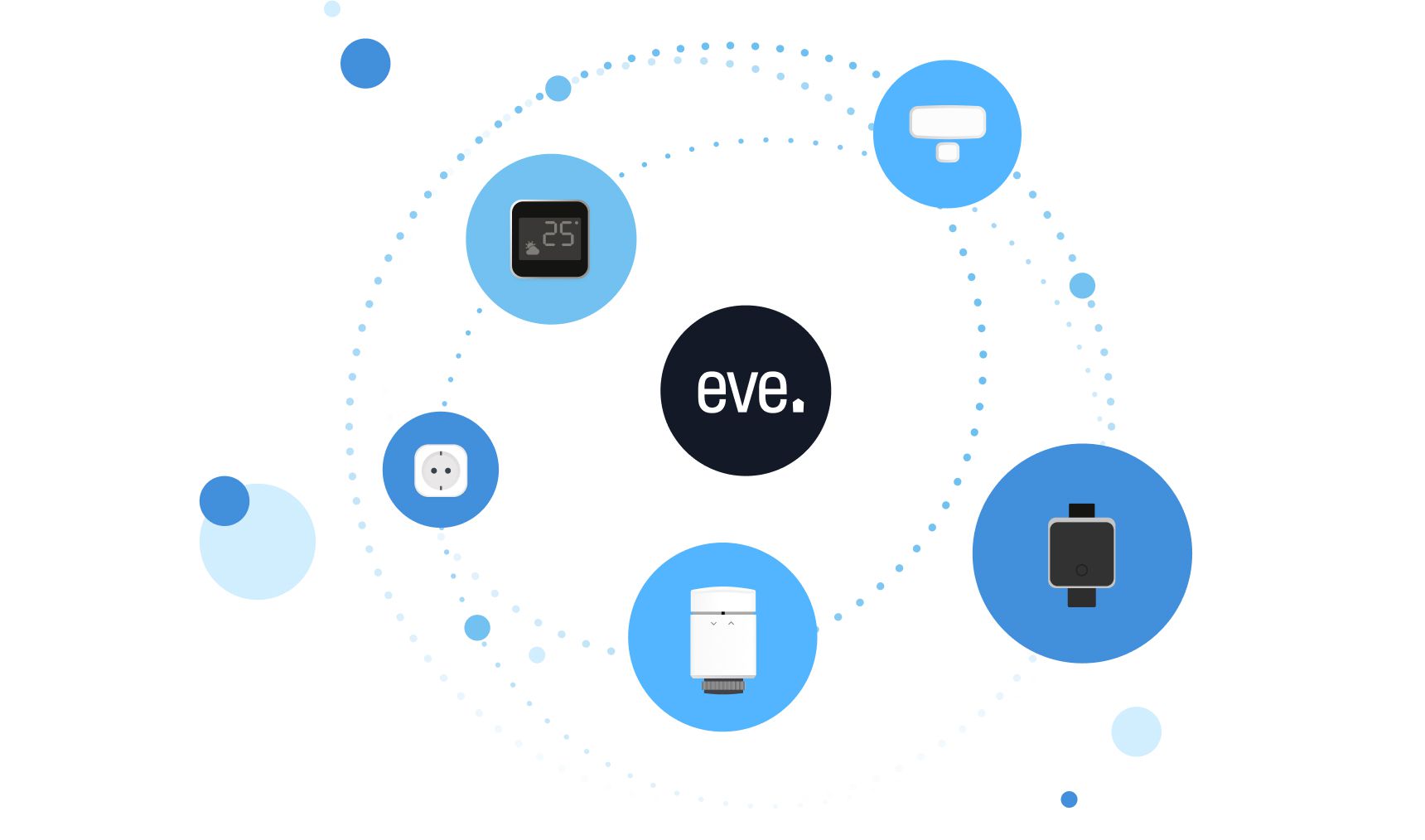 The advantages of Thread
Thread is energy-saving, because the radio chip is in a deep slumber most of the time. It only wakes up for milliseconds when needed - for example, when a sensor detects something - sends its signal and then returns to sleep mode.
Thread is mesh-capable. This means: devices that are connected to the mains automatically work as radio amplifiers (routers) and thus extend the range.
Thread is robust. There is no central intermediary or coordinator to organise the network. If a distribution node (router) in the mesh fails, another one automatically steps in. The network "heals" itself, so to speak.
Thread is IP-based. The devices can be addressed directly via the Internet protocol IPv6, thus simplifying their communication. A Thread base only has to pass through the addresses and does not have not to translate them like the wireless bridge in other systems.
Matter & Thread - Welcome to the future
Lights, thermostats, sockets and other sensors will soon be able to "communicate" with one another.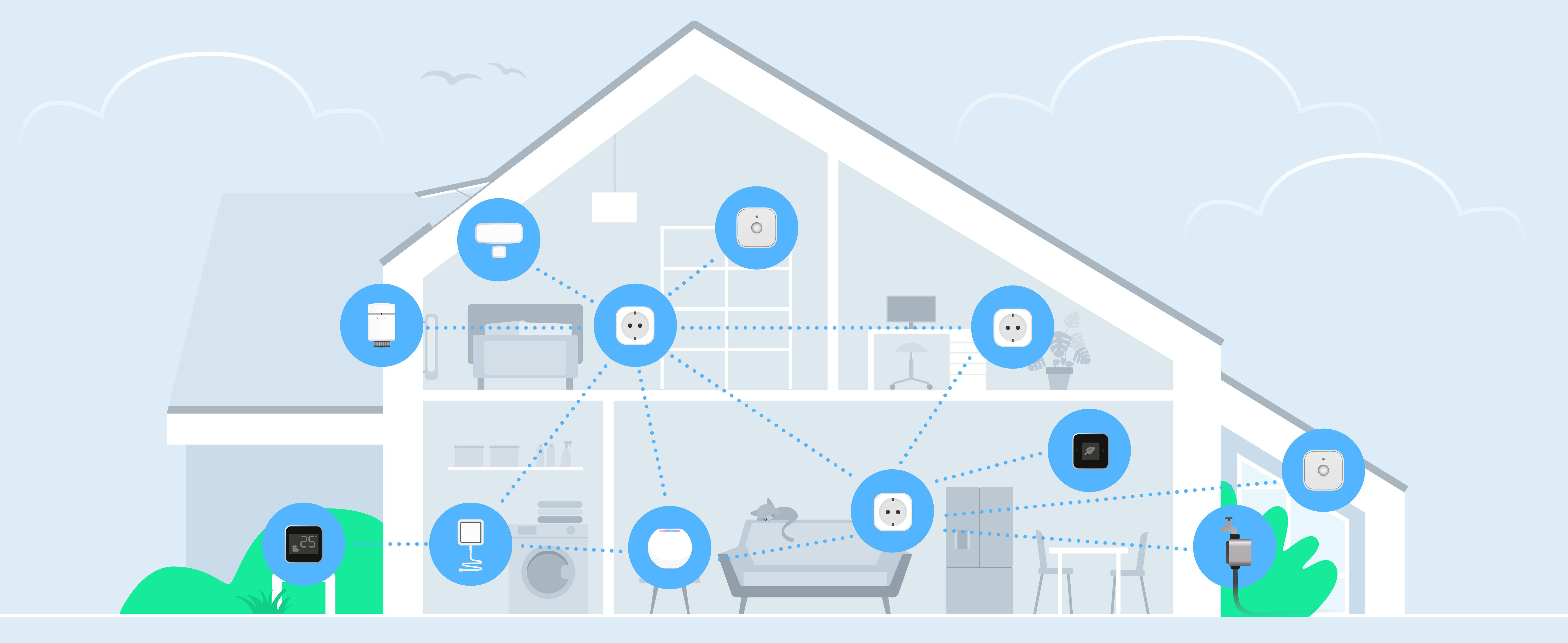 In a nutshell:
Amazon, Apple, Google and other providers decided to establish diplomatic ties in 2019. Since then, they have been collaborating on a Smart-Home standard. The goal: a language with which devices can communicate, transcending manufacturer and system boundaries.

Thread makes IP connections easier. With its technology, Thread has virtually built-in access to the home network and the internet. Thread is also a very secure system thanks to AES encryption.
AND MOST IMPORTANTLY, IT SHOULD MAKE THINGS FAR EASIER FOR END-USERS.
This is because it will be easier to change or simultaneously operate different apps for Smart Home control. Even if different residents of a Smart Home household want to use different systems at the same time, Matter makes this possible.
We will soon be at your service:
With a free Firmware updates, we can also be integrated with other Smart Home ecosystems such as Amazon Alexa, Google Home, or Samsung SmartThings. We are already looking forward to supporting you and simplifying your Smart-Home experience :-)