GET TO KNOW US!
YOUR INTERNAL SALES TEAM AT NOVIS
WE DON'T LEAVE OUR CUSTOMERS OUT IN THE COLD AND DEAL WITH BUREAUCRACY WITH SPEED, FLEXIBILITY AND OUR MOTTO " WE KEEP IT SIMPLE".
Real people, not AI
Our team is on hand to offer you advice and support to ensure you have a pleasant shopping experience. We are dedicated to providing you with outstanding customer service that meets your expectations. Our goal is to build lasting relationships with our customers and provide you with the best possible experience. Let's start a long and rewarding journey together!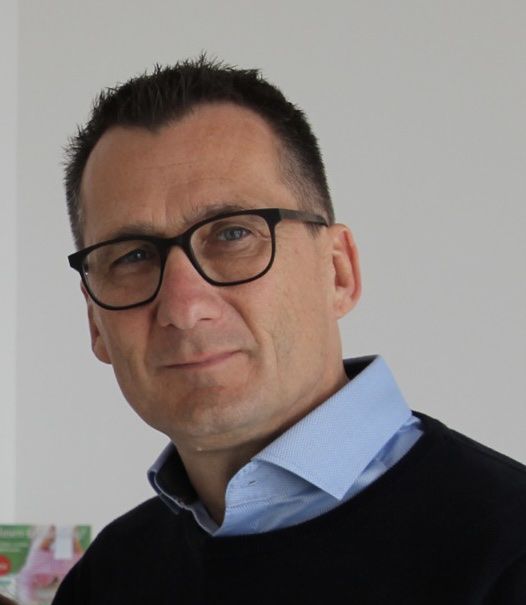 "
With Alex and Adam, novis has two young and energetic people in the team who help me to further improve the quality of customer service. I appreciate the commitment and enthusiasm that Alex and Adam show. We still have a lot to do in Sales Support and I am delighted to have both of them in my team. I wish them both continued success and enjoyment in their work!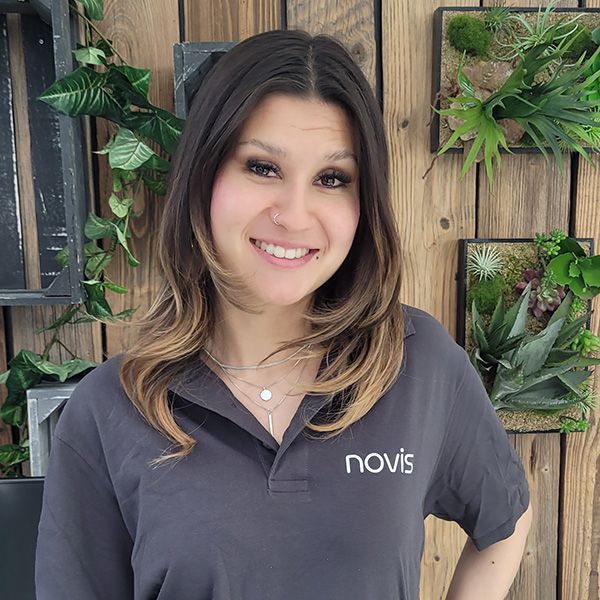 Alexandra Kessler
Our loving heart and soul in the internal sales department and dog lover
Alex is a blessing at novis. With her friendly smile and open-minded character, she performs every task as a team leader with passion and success. She is a great listener and enjoys helping others.
Her love and passion is for her dogs. She has a special bond with them and takes a lot of time to care for and train her animals. We are proud to have her as part of our team and we appreciate her dedication and enthusiasm. We wish her continued success and joy in her work!
ALEX, WHEN DID YOU JOIN THE NOVIS INTERNAL SALES TEAM?
I have been working in the internal sales team at novis for about a year already. I am proud to be part of the novis sales team and excited to work on my career in sales and service toward our customers and partners.
YOU WERE PROMOTED TO TEAM LEADER IN APRIL 2023. WHAT HAS CHANGED FOR YOU?
My "life" hasn't changed radically since then. Though now I am responsible for a team of staff and have to make sure that all targets are met. It's a challenge, but I take pride in doing my best and helping my team to succeed.
WHAT DOES YOUR DAILY ROUTINE LOOK LIKE?
My daily routine in internal sales is varied and exciting. At the beginning of the day, I answer customer enquiries by email and phone. In the afternoon, I work on various projects in collaboration with the marketing department or the sales team. In the evening, I double-check all my tasks and make sure that all customer queries have been answered...
YOU HAVE A DOG, HOW DO YOU HANDLE THIS WITH WORK?
I take my dog in to the office with me from time to time. My colleagues are always excited when he is there and happy to see him. It's nice to see him put a smile on their faces and make work a little more fun.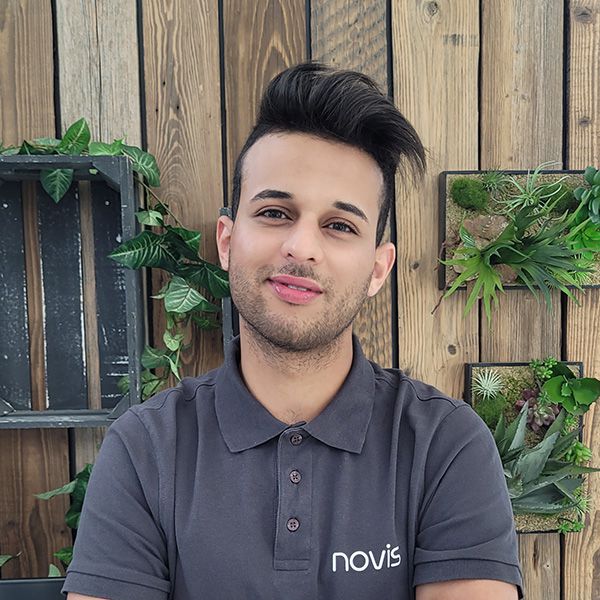 Adam Ibn
Provides each customer with the best service
Adam has one principle that he lives by: Customer Service. He knows that good customer service is the cornerstone of a successful business and strives to provide the best possible service to his customers. He always tries to provide the best service to each and every customer and make them feel valued and appreciated.
Adam knows that a solid customer relationship is the foundation for a sustainable relationship based on trust and mutual respect.
ADAM, HOW LONG HAVE YOU BEEN WORKING AT NOVIS AND WHY?
I have been working at novis in internal sales since September 1st 2022. The informal working atmosphere and the innovative products convinced me that I was in good hands at novis.
WHAT DO YOU LIKE BEST ABOUT YOUR WORK IN THE SALES DEPARTMENT?
I enjoy the direct contact with people, both privately and in business. At novis, I'm not only in constant contact with customers, but I also get the chance to use five of my languages in my day-to-day work.
HOW DO YOU RESPOND TO DIFFICULT CUSTOMER ENQUIRIES?
The novis customers don't give us any trouble. If I have difficult customer enquiries, I don't take it personally. It is important to maintain professionalism and friendliness in such situations. I live by the motto: "Treat other people the way you want to be treated".
WHAT SUPERPOWERS DO YOU BRING TO THE SALES DEPARTMENT?
As a language whizz, I can put my extensive language skills to good use in my day-to-day work. My curiosity and cheerful nature win over not only my co-workers, but also my customers. But the be-all and end-all in internal sales is my passion for sales.
WOULD YOU LIKE TO MEET THE NOVIS TEAM IN PERSON?
Then pick up the phone and make an appointment with us!
+41 43 / 355 75 00.
We look forward to meeting you.