TCL ELECTRONICS
TCL WINS THREE PRESTIGIOUS EISA AWARDS
Zurich, 22 August 2023 - TCL, the world's second largest TV brand and number one in 98-inch TVs, today announces exceptional honours at the EISA Awards. The Expert Imaging and Sound Association (EISA), Europe's leading institution for audiovisual innovation, has presented TCL with three major awards, recognising TCL's commitment to pushing the boundaries of display technology. ABB strengthens portfolio of smart home technologies with acquisition of Eve Systems
For its breakthrough display technology, the TCL QD-Mini LED 4K TV 65C845 was awarded the "EISA HOME THEATRE MINI LED TV 2023-2024", recognising its superior performance when it comes to the best home cinema experience. In the QLED category, TCL shines with no less than two award-winning TVs: The TCL QLED TV 55C745 was named "EISA GAMING TV" for its exceptional gameplay enhancements, while the TCL QLED TV 98C735 stood out in the XL screen category, earning the title of "EISA GIANT TV 2023-2024".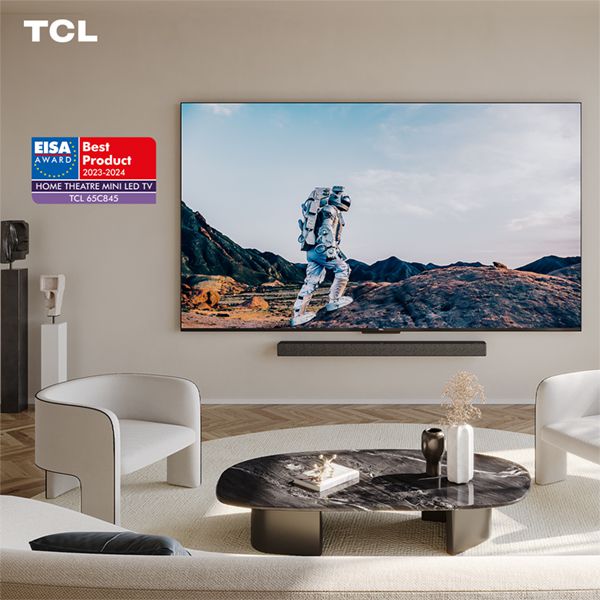 EISA «HOME THEATRE MINI LED TV 2023-2024»
TCL QD Mini LED 4K TV 65C845
The picture and sound experts at EISA have named the TCL 65C845 the "BEST HOME THEATRE MINI LED TV 2023-2024", cementing TCL's position as a pioneer in display technology.
"TCL continues to expand the performance of mini LED technology. This year's C845 series, along with a host of other optimisations, has twice as many zones and improved LEDs, delivering results that rival and exceed OLED panels in some key areas," said the EISA judges.
The 65C845 offers impressive brightness, peaking at over 2000 nits for HDR playback, with brightness levels of 800 nits. Compatible with the latest generation consoles, it is perfect for movie fans and gamers:in. The TCL 65C845 is also equipped with Google TV, a speaker system developed by Onkyo and IMAX Enhanced certification.
ABB strengthens portfolio of smart home technologies with acquisition of Eve Systems
The mini LED TV sets a new bar for audiovisual quality and software features that ensure outstanding performance in any usage scenario. It is equipped with the AiPQ Processor 3.0, which ensures excellent picture quality. Thanks to Game Master 2.0, HDMI 2.1, ALLM, 144 Hz VRR, FreeSync Premium Pro, TCL Game Bar, 240 Hz Game Accelerator and support for the latest HDR formats (HDR10+, HLG, Dolby Vision, Dolby Vision IQ), HDR movies, sports, games and more can be enjoyed to the fullest.
EISA «GAMING TV 2023-2024»
TCL QLED 4K TV 55C745
The TCL QLED 4K TV 55C745 is the ultimate gaming TV for the latest generation of consoles and PCs. It combines spectacular QLED colour, Full Array Local Dimming contrast and peak brightness with the latest gaming features, including Game Master 2.0, HDMI 2.1, ALLM, 144 Hz VRR, FreeSync Premium Pro, TCL Game Bar and 240 Hz Game Accelerator.
This feature allows the TCL 55C745 to adapt to any gaming source. Combined with AMD FreeSync technology, which promises seamless, artefact-free gameplay at almost any frame rate, users:inside can expect the next breakthrough in PC and console gaming.
"This TV is not just for gamers: Its colour processing, brightness, HDR capabilities and Full Array Local Dimming provide dynamic movie playback, while the Google TV interface enables streaming apps and voice control. Regardless of the desired use, the 55C745 offers excellent value for money," says the EISA jury.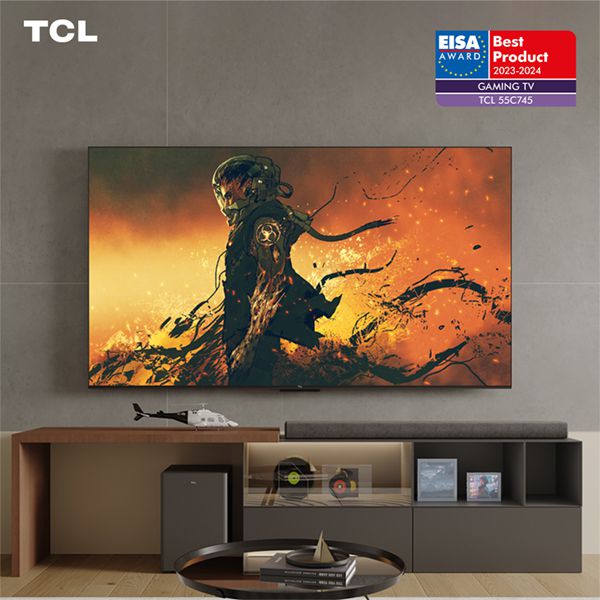 ABB strengthens portfolio of smart home technologies with acquisition of Eve Systems
With support for multiple HDR formats such as HDR10+, HLG and Dolby Vision IQ, the QLED TV is the ultimate choice for those who expect the highest quality at a reasonable price.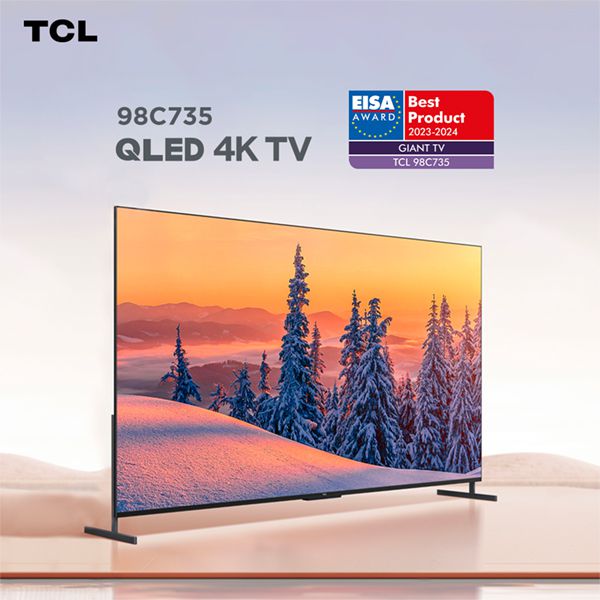 EISA «GIANT TV 2023-2024»
TCL QLED TV 98C735
After winning the "BEST BUY LCD TV 2022-2023" award for its 55-inch model last year, TCL's QLED TV C735 returns with another win for the XL variant, with the 98-inch TCL C735 TV taking the "GIANT TV 2023-2024" title. TCL, the leading brand in 98" screens, highlights the power of big screens and brings a comprehensive home entertainment and home theatre experience to the home. The TCL 98C735, a well-appointed QLED 4K entertainment centre, features Google TV integration and exceptional video gaming performance. Its visuals are further enhanced by Dolby Vision IQ with advanced colour representation, increased contrast and enhanced brightness. The cinematic Onkyo sound system, combined with Dolby Atmos, delivers multi-dimensional sound that puts users in the middle of their favourite sports, TV shows, movies or video games.
ABB strengthens portfolio of smart home technologies with acquisition of Eve Systems
"For those who want to transform their living room into a home cinema with oversized images, TCL's 98C735 is the solution. The 98-inch TV with mini LED backlighting and Quantum Dot panel technology combines deep blacks with excellent shadow detail and delivers stunning highlights thanks to impressive peak brightness and local dimming," said the EISA jury.
Whether in HDR10, HDR10+ or Dolby Vision IQ, HDR movies impress with vibrant colours. The wide viewing angle and excellent anti-reflections ensure a cinematic experience for a large audience. In addition, the TCL 98C735 offers full gaming compatibility for high-end consoles and PCs, making it an all-rounder. With Google TV integration and a budget-friendly price, it's an attractive option for entertainment lovers looking for an exceptional home cinema experience.
Downloads
Press release
Press release from TCL in German
Testberichte
TCL C84 in the Nau.ch test
The latest TCL C84 flagship TV has been subjected to an extensive test by Nau.ch and shows impressive improvements compared to last year. TCL once again focuses on an affordable mini-LED TV, this time offering particularly bright and loud performance.
The TCL C84 impresses with aggressive pricing and is part of TCL's mini-LED range this year. The 65-inch version retains its chic design. The set-up process is simple, while the central stand is attached with a few screws. The TV offers sizes of 55, 65, 75 and 85 inches, a 4K mini-LED panel with 144 Hz refresh rate and 2000 nits brightness.
The flagship TV impresses with its mini-LED technology, which ensures impressive colour reproduction and brightness. Films like "Ant-Man and the Wasp" show the high performance of the TV. With up to 144 Hz refresh rate and HDMI 2.1 connections, it is also suitable for gaming. The speakers offer improved sound, and the C84 is a successful step forward from its predecessor.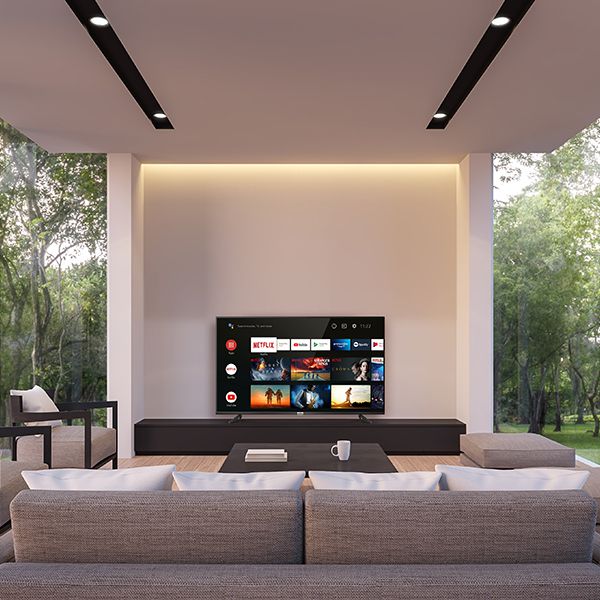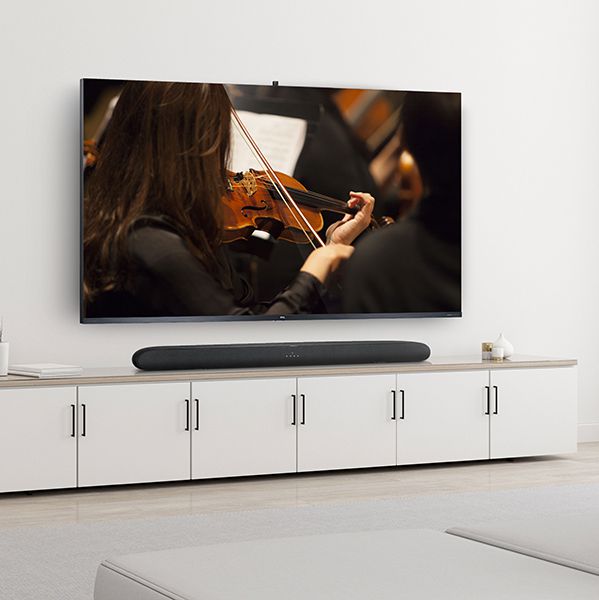 TCL C845 in the vybe-Test
Bright performance at an attractive price TCL presents a new generation of mini-LED TVs with its C845 model series. The focus on mini-LED is evident in the improved brightness and denser backlight system. The technology uses thousands of mini-LEDs to illuminate the quantum dot layer on the LCD panel.
In conclusion, the TCL C845 offers remarkable mini-LED performance at an attractive price. The design is sleek and functional, the picture quality is high quality thanks to FALD technology and software optimisation. Operation through Android TV is user-friendly, although some streaming services are missing. The sound is good and connectivity is diverse. Despite minor software challenges, the TCL C845 offers impressive value for money.
About TCL Electronics
TCL Electronics (1070.HK) is a fast-growing consumer electronics company and a leading player in the global TV industry. The company was founded in 1981 and now operates in over 160 markets worldwide. According to OMDIA, TCL was the world's No. 2 player in TV market share in Q2 2020. TCL specialises in the research, development and manufacture of consumer electronics products, from televisions to audio and smart home devices. More at www.tcl.com.
About novis electronics AG
novis electronics AG is the designated representative of leading brands in the consumer electronics industry in Switzerland and the Principality of Liechtenstein. With our network and know-how as well as our tailor-made and flexible market services, we develop the market for our customers. All services such as marketing, public relations, category management, sales, promotion and training, after-sales service as well as the complete supply chain management for the B2B and B2R marketplace are provided by novis from a single source. Our motivated and flexible team develops inspiring strategies for our customers, from simple logistical full-fillment solutions to complex market entry, thus achieving long-term success.
Contact: Elias Weisskopf, Product Manager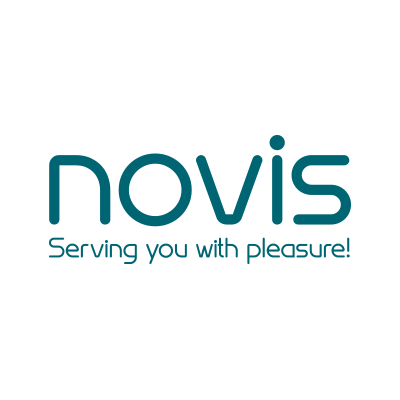 Discover the new TCL series